ExxonMobil and TechnoServe Empower Women Entrepreneurs
ExxonMobil Foundation invests US$300,000 in the Business Women Connect Initiative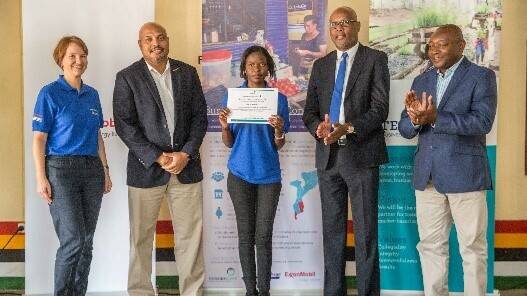 Executives from ExxonMobil and TechnoServe Mozambique today recognized the first graduating class from the Business Women Connect Initiative in a ceremony.
The initiative, funded by a US$300,000 grant from the ExxonMobil Foundation, and implemented in partnership with TechnoServe and Letshego Bank, aims to increase women's economic opportunity by training bank agents to help women customers effectively use savings accounts and improve business and financial literacy to grow their businesses.
"A major concern for women entrepreneurs in Mozambique is navigating the financial landscape," said Jos Evens, managing director, ExxonMobil Moçambique Limitada. "The Business Women Connect Initiative gives women agents from Letshego Bank the knowledge and confidence to be financial ambassadors to all Mozambican women, and invest in the health, education and well-being of their families and communities."
Fifty-six women completed the program, which covered negotiating, client management, marketing, merchandizing, financial management, recruitment strategies and female-oriented marketing. The initiative's goal is to train up to 100 women bank agents in Maputo and Inhambane.
"These trainings were made possible thanks to the support of the program's partners as well as the community administrative posts of T3, Magoanine "C", Mavalane "A", Matola 700 and of the district of KaNlhamankulo," said Jane Grob, country director TechnoServe. "Their assistance was instrumental in delivering the various modules to our participants."
About ExxonMobil
ExxonMobil, the largest publicly traded international oil and gas company, uses technology and innovation to help meet the world's growing energy needs. In Mozambique, ExxonMobil holds a 25 percent indirect interest in Area 4 and will lead the construction and operation of future natural gas liquefaction facilities. In addition, ExxonMobil was awarded the joint rights to negotiate the Angoche basin (A5-B) and the Zambezi Delta (Z5-C and Z5-D) concessions, as part of Mozambique's fifth licensing round. For more information, visit us at www.exxonmobil.co.mz or like us on Facebook at https://www.facebook.com/ExxonMobilMocambique