ExxonMobil and TechnoServe Empower Women Entrepreneurs
ExxonMobil Foundation invests US$300,000 in the Business Women Connect Initiative
ExxonMobil and TechnoServe Empower Women Entrepreneurs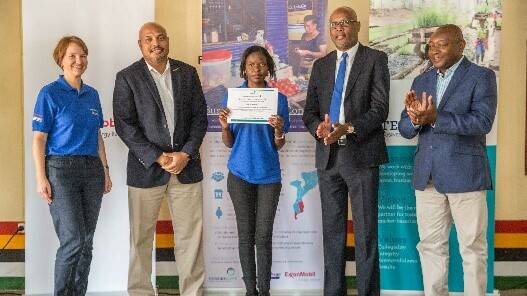 Executives from ExxonMobil and TechnoServe Mozambique today recognized the first graduating class from the Business Women Connect Initiative in a ceremony.
The initiative, funded by a US$300,000 grant from the ExxonMobil Foundation, and implemented in partnership with TechnoServe and Letshego Bank, aims to increase women's economic opportunity by training bank agents to help women customers effectively use savings accounts and improve business and financial literacy to grow their businesses.
"A major concern for women entrepreneurs in Mozambique is navigating the financial landscape," said Jos Evens, managing director, ExxonMobil Moçambique Limitada. "The Business Women Connect Initiative gives women agents from Letshego Bank the knowledge and confidence to be financial ambassadors to all Mozambican women, and invest in the health, education and well-being of their families and communities."
Fifty-six women completed the program, which covered negotiating, client management, marketing, merchandizing, financial management, recruitment strategies and female-oriented marketing. The initiative's goal is to train up to 100 women bank agents in Maputo and Inhambane.
"These trainings were made possible thanks to the support of the program's partners as well as the community administrative posts of T3, Magoanine "C", Mavalane "A", Matola 700 and of the district of KaNlhamankulo," said Jane Grob, country director TechnoServe. "Their assistance was instrumental in delivering the various modules to our participants."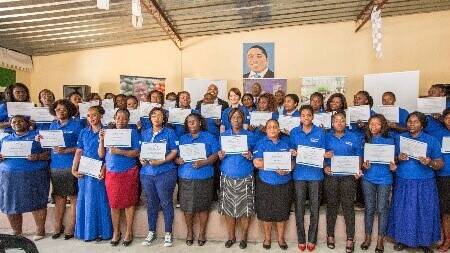 About ExxonMobil
ExxonMobil, the largest publicly traded international oil and gas company, uses technology and innovation to help meet the world's growing energy needs. ExxonMobil holds an industry-leading inventory of resources, is one of the largest refiners and marketers of petroleum products, and its chemical company is one of the largest in the world. For more information, visit www.exxonmobil.com or follow us on Twitter www.twitter.com/exxonmobil.
Cautionary Statement: Statements of future events or conditions in this release are forward-looking statements. Actual future results, including project plans, capacities and timing, could vary depending on changes in long-term prices for oil and natural gas and other market factors affecting the oil and gas industry; the outcome of commercial negotiations; the ability to secure project financing on acceptable terms; obtaining necessary government approvals; final co-venturer investment decisions; the outcome of future development work; economic conditions including the occurrence and duration of economic recessions; changes in government policies or regulations, including tax and environmental requirements; the actions of competitors; and other factors discussed in this release and under the heading "Factors Affecting Future Results" on the Investors page of ExxonMobil's website at exxonmobil.com. References to natural gas, resources, and similar terms in this release include quantities that are not classified as proved reserves under SEC regulations but that we expect will ultimately be produced and moved to the proved reserve category.
**Shorthand references herein are used for convenience only. Nothing contained herein is intended to override the corporate separateness of affiliated companies or co-venture parties.
Contact:
Media Line: (832) 625-4000