Rovuma basin operators support the rehabilitation of Maganja Health Clinic
MAPUTO, December 18, 2020 — The Total-led Mozambique LNG project and ExxonMobil Moçambique, on behalf of Mozambique Rovuma Venture and the Area 4 partners, have supported the rehabilitation of Maganja Health Clinic in Afungi, in the District of Palma, Province of Cabo Delgado, sponsoring the refurbishment and upgrade of the building and medical equipment.
The Maganja Health Clinic, which historically has served about 3,000 people a year, was officially re-opened yesterday by the Governor of Cabo Delgado, Valige Tauabo, after extensive rehabilitation works, which included the roof, walls and floor, the complete electrical circuit as well as painting the building. During the rehabilitation works, the communities used alternative facilities including a temporary facility in Maganja provided by Mozambique LNG, the newly-built health clinic in Quitunda, the resettlement village and the existing facilities in Palma Sede.
At the re-opening ceremony of the Clinic, the Governor of Cabo Delgado said that "the inauguration of the Maganja Health Clinic symbolizes an important milestone in improving the health and well-being of our populations. It is, once again, clear evidence of the commitment that our Government has in responding to the needs of the people. We are grateful to our cooperation partners who have done everything to respond to our requests".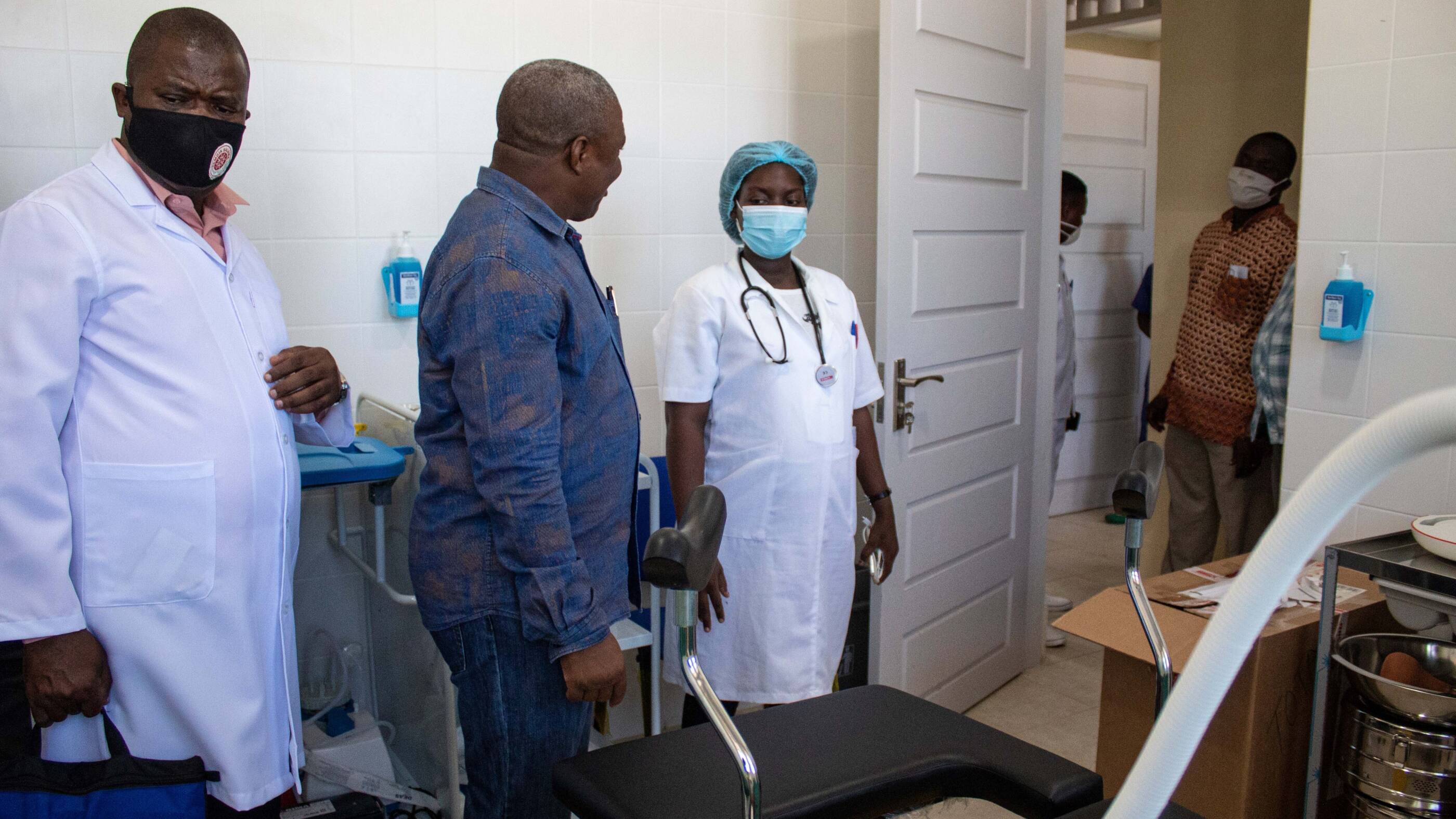 Ronan Bescond, Country Chair of Total in Mozambique and Vice President of the Mozambique LNG project said: "the health and well-being of our workers and local communities are a priority for us. Our support for the rehabilitation of this clinic is part of our extended support for community health. We therefore join the efforts of the Government of Mozambique to improve the health care of Mozambicans, in particular, in the Afungi communities."
"The rehabilitation of the Maganja Health Clinic is critically important, not only for access to health care by the Maganja and surrounding community, but as a demonstration of community perseverance and resilience," said Jos Evens, General Manager and Lead Country Manager for ExxonMobil Moçambique, Limitada
The Maganja Health Clinic is the primary health-services provider for the Maganja, Nfunzi and Kibunju communities on the Afungi Peninsula, offering general practitioner services, maternity care, paediatrics, vaccination, public health advice and information.
* * * * *
About Mozambique LNG project
Mozambique LNG is the country's first onshore LNG development. The project includes the development of the Golfinho and Atum fields located within Offshore Area 1 and the construction of a two-trains liquefaction plant with a capacity of 13.12 million tonnes per year. The Area 1 contains approximately 65 Tcf of gas resources, of which 18 Tcf will be developed with the first two trains. The Final Investment Decision of Mozambique LNG project was announced on June 18, 2019, and the project is expected to come into production by 2024.
Total E&P Mozambique Area 1 Limitada, a wholly owned subsidiary of Total, operates Mozambique LNG with a 26.5% participating interest alongside ENH Rovuma Área 1, S.A. (15%), Mitsui E&P Mozambique Area1 Limited (20%), ONGC Videsh Rovuma Limited (10%), Beas Rovuma Energy Mozambique Limited (10%), BPRL Ventures Mozambique B.V. (10%), and PTTEP Mozambique Area 1 Limited (8.5%).
About Area 4 – Rovuma LNG
The deepwater Area 4 block contains more than 85 trillion cubic feet of natural gas, which will provide resources for a world-class LNG project. ExxonMobil is leading the construction and operation of natural gas liquefaction and related facilities on behalf of MRV, and Eni is leading the construction and operation of upstream facilities.
Area 4 is operated by Mozambique Rovuma Venture S.p.A. (MRV), an incorporated joint venture owned by Eni, ExxonMobil and CNPC, which holds a 70 percent interest in the Area 4 exploration and production concession contract. In addition to MRV, Galp, KOGAS and Empresa Nacional de Hidrocarbonetos E.P. each hold a 10 percent interest in Area 4.
* * * * *
Cautionary note
This press release, from which no legal consequences may be drawn, is for information purposes only. The entities in which TOTAL SE. directly or indirectly owns investments are separate legal entities. TOTAL SE. has no liability for their acts or omissions. In this document, the terms "Total", "Total Group" and Group are sometimes used for convenience. Likewise, the words "we", "us" and "our" may also be used to refer to subsidiaries in general or to those who work for them.
This document may contain forward-looking information and statements that are based on a number of economic data and assumptions made in a given economic, competitive and regulatory environment. They may prove to be inaccurate in the future and are subject to a number of risk factors. Neither TOTAL SE. nor any of its subsidiaries assumes any obligation to update publicly any forward-looking information or statement, objectives or trends contained in this document whether because of new information, future events or otherwise.